Elements, the Nature Preschool offers Outdoors Classrooms and a Dynamic Environment for Children to
Play, Explore, Experience, Create, Learn and Grow
Elements pre-k and nursery is a nature based preschool in the Lower East side, New York City. Every morning, a group of children make their way through the busy streets of New York's Lower East Side to a preschool tucked away on Suffolk Street. Here, they spend their days playing in a delightful, custom-landscaped garden. They engage in activities and lessons that introduce them to the world in a sensory, intuitive manner.
They learn how to trust their experiences, and explore their surroundings with curiosity. They create meaningful relationships with their environment and one another. At Elements pre-k, learning is rooted in everyday magic.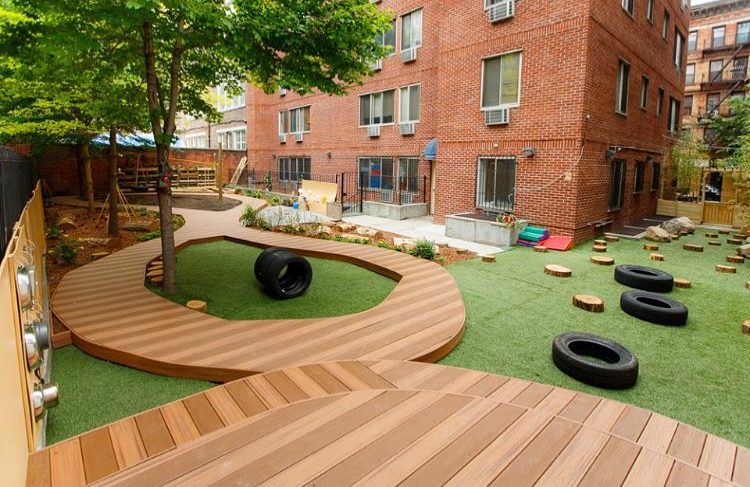 A Note from Our Educational Director, Vanessa Ramos:
Two small hands reach high, and a body jumps feet first into ankle deep mud-water. Splatters of laughter erupt from surrounding friends. The tomatoes nearby catch little brown droplets of silky mud on their just orange skin. A teacher notices how the mud drips down the curved shape of the tomato, how the soil drinks the water in, and the children notice, as they always do, where more water can be applied. At Elements, we notice and harvest the power of cause, effect, and connection. How every action designs the next. How every child impacts the world.
Elements emerged as a nature preschool 5 years ago. An all weather, environmentally driven program, we continue to believe in, and witness, the incomparable benefits of "natural world magic." The snow we pack into buckets and serve to friends who always want ice cream. The assortment of ice cream flavors we create with the flick of a wrist. The outstretched tongue leaning forward to a small, gripped hand, lapping up a delicious treat of imagination.
Elements wants to eat pretend ice cream with your children. Elements wants to sky gaze through the overlapping trees with your children. Elements wants to use too many band-aids, hide-and-seek children who hide in the same spot every time, and sort teeny-tiny rocks with your children. Elements wants to give your children everything these months might have taken from them.
In 1911, the world turned to "open-air classrooms" to relieve their children from swooping cases of tuberculosis. Children could unite, learn, and grow together amongst the natural healing momentum of the outdoors, and adapt as children always do (Bellafonte, 2020). Elements has always taken this approach to education, and welcomes you to join us now when it matters most. To come home with mud on your clothes, a story to tell, and love in your heart.
With gratitude and hope,
Vanessa Ramos
MS Early & Special Education
Educational Director, Early Educator, Family Coach
Serving Children from 3 months to 5 years
Caterpillars: 3 – 18 Months
Discoverers: 13 – 30 Months
Why choose Elements Preschool?
Outdoor Classrooms.
Professional and passionate teachers with degrees in early childhood education or related fields.
A beautiful and engaging private outdoor area designed to engage children in and with the natural environment.
A nature and arts oriented curriculum.
Daily exposure to the ever changing wonders of nature.
Gardening activities to learn about growing their food and cooking with it
Flexible weekly and daily scheduling.
Choice of school days 8.30am-3.00pm and extended care 3.00pm-5.30pm
Early drop-off starting 8.00am
Extended care as needed on a day to day basis
Our unique child-led, inquiry-based philosophy marries play, discovery and creative individualism together, encouraging collaboration, curiosity, and a spirited learning community.